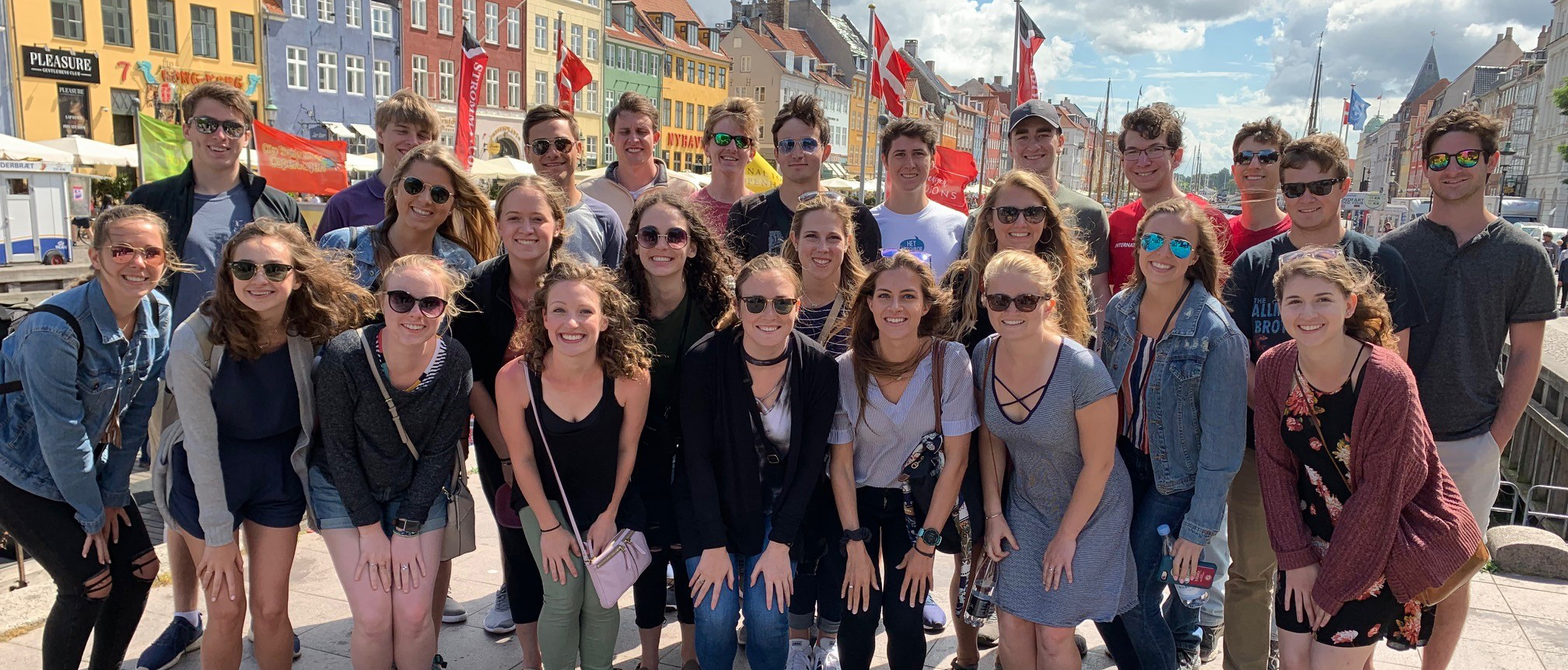 Summer 2023: Chemical Engineering International Course Offerings
IRELAND (Summer I): (three courses will be offered, must pick two of three options

CHE 445/446/545 – Introduction to Biochemical Engineering (3 hrs)
CHE 354 – Chemical Reactor Design (3 hrs)
CHE 412/413/512 – Polymer Materials Engineering (3 hrs)
DENMARK (Summer II): CHE 323 – Unit Operations Lab (4 hrs)
Frequently Asked Questions
What locations will be offered in 2023?
SUMMER I: Ireland (Dublin, Ireland) at University College-Dublin (UCD)
SUMMER II: Denmark (Lyngby, Denmark) at the Technical University of Denmark (DTU)
How many students can participate at each location?
These are estimates:
UCD: 30 students
DTU: 24 students
How much does the course cost?
The prices will not be finalized until late fall semester. The prices fluctuate, due to changes in the exchange rates and the prices of the host institutions. Historical prices for these courses are ~$6,000 +/- $500. These prices include living accommodations (modern on-campus housing), lab supplies, and fees. A few meals are included, as well as some visits to local museums. Each program is different, and some will include more cultural excursions in the price. However, you will have to pay for most meals, airfare to/from the program, and any other miscellaneous travel expenses. More complete financial details will be provided through the education-abroad website (http://international.ua.edu/educationabroad/), once the applications are made available (usually late fall semester).
What are the exact dates of the different programs?
The exact dates are usually not set until late in the fall semester.  Once determined, these dates will be posted on the education-abroad website (http://international.ua.edu/educationabroad/).   The Ireland course will last approximately 5 weeks (late May – end of June), and the Denmark courses will last for approximately 4 weeks (beginning of July until the end of the month).  This schedule allows for students to also take a Summer I or Summer II course at UA or take BOTH Summer I and Summer II courses in Europe.
I am confident that I want to participate in one of the programs, so how do I guarantee my spot?
The spots in the programs are never guaranteed. You must first complete an application (through the education-abroad website), get accepted by the program, pay an initial deposit, and then pay in full. Due to the typical timeline, spots start filling up in January/February. Also, we do not know the capacity of the individual programs until the beginning of the year (late January or early February), since this is determined by the host institutions. Therefore, if cuts have to be made, the priority will be mainly based on GPA. We are typically able to accommodate all interested students.
What if I pay in full for the program, but then a really good summer internship becomes available to me? How much of my money do I get back?
Once you pay in full and secure your spot, we send the money to the host institutions (usually within 1-2 weeks after your full payment). After that point, we no longer have your money, and it can be difficult to provide a refund, depending on the timing. However, if there are still students on the waiting list or if you can find another student to take your place, then we can usually make an internal adjustment and provide a refund.
What are the differences between the two different lab programs?
We will have an Information Session in October/November to try to answer some of these types of questions and provide a better feel for the courses.
Are the weekends free, so that I can tour around or travel to other cities?
Several of the weekends will be free. Plus, we try to allow for a few 3-day weekends, so that students can make short trips to travel to other European cities. You had to be careful traveling to other countries during previous covid protocols, since border crossings and different vaccination protocols in different countries can lead to logistical issues (e.g., quarantines).
Can I use my scholarship to pay for the course?
Unfortunately, we cannot provide any guidance on scholarships, since the rules and terms often vary.  However, students in previous years have used scholarships and other financial aid to help pay for part of all of the course. It is best to check directly with your scholarship office to confirm.
Are there any EXTRA scholarships that are available for these courses?
There are occasionally some designated scholarships provided via the Education Abroad office (see http://international.ua.edu/educationabroad/financingstudyabroad/).  As a department, we are trying to secure some (very modest) financial support for these courses.  If/when we can provide some financial assistance, we will let all students know immediately.
Do I have to fly with the group, or can I visit some other European cities before/after the course?
You are encouraged to visit other places before/after the course, but in the past, covid protocols can vary from country-to-country (quarantine, etc.). You just need to arrange your travel plans, so that you are present on the first day (you cannot arrive late), and you must stay until the end of the course (you cannot depart before the course ends).
I have never been to Europe before, and I would like to travel along with someone else. Will someone be able to help me?
Absolutely!  We help coordinate travel schedules. As students make their travel plans, we collect their itineraries and share them with the rest of the students. This way, students can try to schedule identical flights, if they desire. Traveling with other students can make the journey much easier, even if you do not already know the other student participants. The faculty leaders always provide their travel schedules in advance, and students frequently travel along with the faculty.
I don't know ANYONE else that is going along on the trip. Is there any way to connect with other students?
Absolutely!  Just come to our information sessions (mentioned below). This is the first step. We will have a couple of pre-departure meetings and we will create some listservs/GroupMe, so that you can connect with other students. A lot of the students that participate start out as strangers, but by the end of the trip, develop lifelong friendships. Out of all of the clubs and organizations in our department, this is definitely the best way to make some great friendships. The faculty also really enjoy getting to know each individual student, versus a typical lecture course.
Will there be other announcements about these courses, or how do I get additional information? When or where will the orientation sessions be?
Near the beginning of each fall semester, Prof. Turner (hturner@eng.ua.edu) will send out a bulk email to all CHE students, asking for any students that want to be included on the "international summer courses" email list. This will be used to send out any updates or notices about the courses.
Around late-October/early-November, there will be an information session about these courses. This session is not required, but it is an excellent opportunity to learn more and ask any questions. This session will be announced to any students on the email list.
Near the very end of the fall semester, the formal applications will open up (http://international.ua.edu/educationabroad/). You can go to the website and simply search for the specific country or city, and the program should pop up. This application will contain the exact dates, exact price, and other details. Until then, we cannot provide any other guidance on these items.
Are there other study-abroad classes that are offered by the ChBE Department?
Currently, there are no other international classes organized by the UA ChBE Department faculty over the summer. However, there is a full semester program available at University College Dublin (Dublin, Ireland). Students can take several pre-approved CHE courses while enrolled at UC-D, as well as other elective classes. For more information about the UC-D semester abroad program ask your Advisor or contact Prof. Heath Turner (hturner@eng.ua.edu). In addition, there are many other study-abroad opportunities (outside of chemical engineering) available that can be found through Capstone International (http://international.ua.edu/educationabroad/).
Also, we offer a summer research program International Research Experience for Students (IRES) in San Sebastián, Spain. It is a hands-on research program for a small (7~8) group of students, but no course credit is earned. This program is led by Prof. Bara (jbara@eng.ua.edu), and he will distribute a separate announcement about this program when the details are confirmed (requirements, dates, etc.).
If you have any other urgent items not addressed here, you can contact Prof. Heath Turner (hturner@eng.ua.edu).  Otherwise, please save any other miscellaneous questions for the information session.