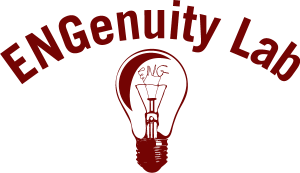 The ENGenuity Lab connects your academic, social, and career networks in one place.
Located in Paty 162, the ENGenuity Lab is open to all students in the College of Engineering to cultivate relationships, explore opportunities and collaborate with peers. It is the hub for tutoring, mentoring, and career preparation.
Get help with classroom work. Learn from other students about navigating college. Meet with mentors about your future. The possibilities at the ENGenuity Lab are unlimited.
Students in Mentor UPP can use the space to meet with one another. Tutoring is also provided in the ENGenuity Lab.
Hours of Operation
For 2020-2021, the ENGenuity Lab will be open during the following hours:
Monday – Thursday: 10 a.m. – 10 p.m.
Friday: 10 a.m. – 5 p.m.
Please make sure you swipe in and out every time!
College-Wide Tutoring
College-wide tutoring is available in the ENGenuity Lab. Visit the tutoring page for a complete listing of tutors and their available hours.
Where Is The Lab Located?
The ENGenuity Lab is in 162 Paty Hall, formerly Paty Commons.